| | |
| --- | --- |
| Posted on July 6, 2014 at 3:05 PM | |
Rabbit Stew & Dumplings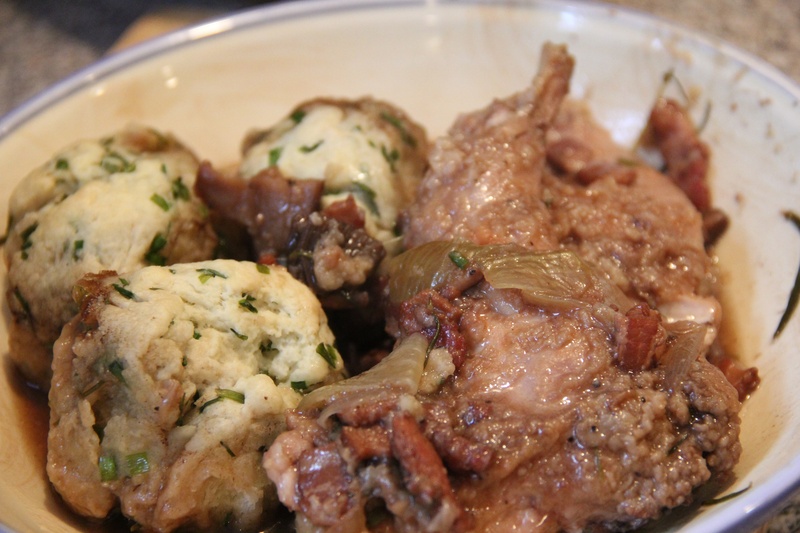 As a kid, the "Shishkabugs" episode, where Yosemite Sam attempts to turn Bugs into the kings favorite dish, "Hasenpfeffer", was one of my favorites.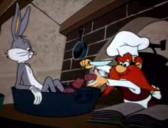 Little did I know how good rabbit stew really was until I tried it for myself, 40 years later.
If you are anything like me, that cartoon was the closest thing you ever came to thinking of rabbit as an actual food source.
We forget that long before the beef lobby, rabbit was, if not a staple, then at least an occasional part of the North American diet.
Don't believe me. Just ask you parents... or maybe your grandparents, if they ever ate rabbit. You may be surprised by the answer. I certainly was.
I was shocked to hear my mother say she ate rabbit when she was younger. She never cooked it or even mentioned rabbit when I was growing up. If it wasn't beef, chicken, pork or fish... I didn't know what it was.
What happened? If rabbit was so widely eaten in my mother's time, then why did the tradition all but die with her generation?
As more and more working poor were raised to the middle class, suddenly rabbit was seen as a "lesser" food. If you had money, you could afford beef. Ahhh, the power of the beef lobby.
Why eat rabbit?
If you are environmentally conscious, compared to beef, rabbit leave almost no environmental footprint.
And forget about the fact that rabbit is one of, if not the, most healthy meats you can eat.
It has fewer calories and less fat & cholesterol than chicken, turkey, beef, pork or lamb. It also has the lowest sodium content and is high, (second only to turkey), in protein.
The real clincher is that rabbit is one of the sweetest, most delicious meats you will ever eat.
O.K. you have to be willing to deal with the bones. Rabbit are fairly small and have a bit of fiddly little bones. A dressed rabbit may only be 2 - 4 pounds, and there are not large chunks of meat for a filet. Don't get me wrong, it's not like eating a bony fish, but more bones than chicken, beef or pork.
Hasenpfeffer,referred to by Yosemite Sam, is a traditional German stew made with braised rabbit and onions and a marinade of wine and vinegar.
Our rabbit stew recipe is likely more French in influence. It started with a basic rabbit stew recipe I found on-line and evolved into our own recipe.
I like to take advantage of what we have growing in abundance in the garden, so chives, and rosemary play a heavy role.
The rabbit is braised with onion, mushrooms and rosemary, stewed in a chicken stock and mushroom infused broth that is swimming with chucks of meaty bacon, and topped with chive dumplings.
This is NOT a heart healthy meal. Rabbit meat on its own is very healthy, however, we load this stew up with bacon, so bye, bye health consciousness and "Bon appetite".
Remember the mantra: "Everything is better with bacon".
You can cut down on, or even eliminate the bacon for a healthier meal, but then you would be missing the point. It's not like you are going to eat like this every day. Indulge!
If you plan on making this meal, you have to commit. You are going to be in the kitchen for a while. So grab yourself a glass of wine and settle in.
The dumplings can be made ahead of time and keep in the fridge until needed.
Rabbit Stew & Dumplings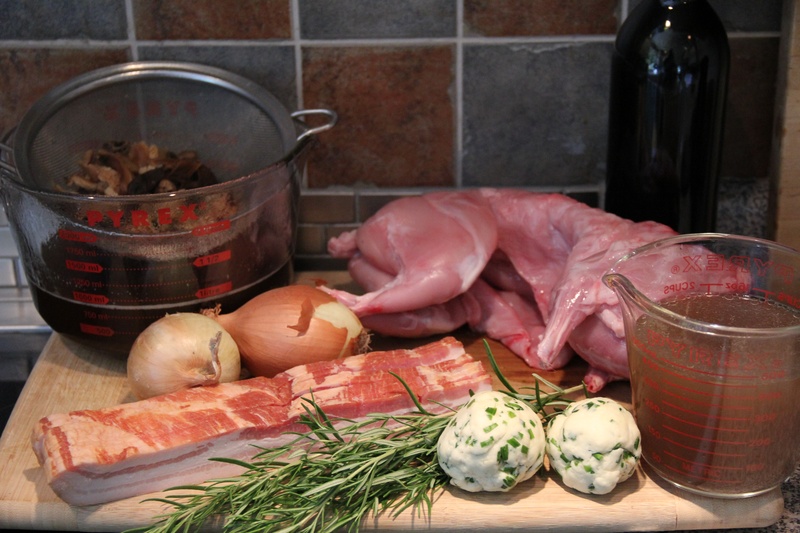 INGREDIENTS:
1 3-5 lb rabbit
3¼ cups self rising flour
¾ cup butter, chilled and cut into tablespoon pats +
1 Tblsp butter
1 bunch chives
1½ tsp salt
1 tsp fresh cracked pepper
¾ cup milk
1 cup chopped dried mushrooms
We use a great gormet mix from Costco with porcini, shitake, yellow boletes and oyster mushrooms.
2 Tblsp oil
5 slices bacon, cut into ½ inch strips
Here is a secret; PC brand old fashion - naturally smoked bacon is amazing!  Thick and meaty and yum. "Everything is better with bacon".
2 med onions, quartered
3 large sprigs of rosemary
1 cup red wine
2 cups chicken stock
salt & pepper - to taste
Advance prep:
If not already done, cut rabbit into pieces, rinse in cool water and pat dry. Sprinkle liberally with salt and set aside.
Here is a helpful link to how to cut up a rabbit:
Rehydrate mushrooms: In a medium sauce pan, add:
4 cups hot water
1 cup chopped dried mushrooms
Bring to a boil over high heat. Reduce heat but keep boiling for 5 minutes. Remove from heat and drain, reserving liquid. Set both aside.
DUMPLINGS
In a food processor, pulse together until they resemble corn meal:
3¼ cups self rising flour
¾ cup butter, chilled and cut into tablespoon pats
Transfer to mixing bowl. Using dough hook mix in:
1 bunch chives, finely chopped
1½ tsp salt
slowly add in, just until a dough is formed:
¾ - 1 cup milk
( Actual amount may vary depending on humidity etc. Add milk slowly and only enough to form a dough.)
Turn mixer down and knead until smooth, about 1-2 minutes. Divide dough into 16 equal portions, form into balls and chill in the refrigerator until needed.
RABBIT STEW
In a large stock pot, heat on medium-high heat:
2 Tblsp oil
1 Tblsp butter
When oil is HOT, dredge rabbit pieces in flour and sear, in batches, until golden brown on all sides. Remove rabbit from pot and set aside. Add to the hot pan:
5 slices bacon, cut into ½ inch strips
cook just until bacon starts to colour, about 5 minutes. Then add:
2 med onions, quartered
Rehydrated Mushrooms
3 large sprigs of rosemary
Sauté until onion begins to go translucent. Deglaze pan with:
1 cup red wine
We make our wine at Village Wine Works.
Add:
3 cups reserved mushroom liquid
2 cups chicken stock
salt & pepper - to taste
Return cooked rabbit pieces to the pot, cover with a lid and simmer for 30 minutes.
Take your dumpling out of the refrigerator to start to come to room temperature.
Preheat oven to 350° F
Once the 30 minutes of simmering is up, remove pot from heat and drop dumplings into the pot, drizzle with olive oil an d bake for 45 minutes.
Enjoy !
Categories: None